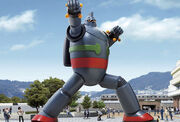 An enormous, eighteen metre tall statue of Tetsujin was surrected in Kobe, Japan, which happens to be Mitsuteru Yokoyama's hometown, though it was more intended to signal the city's recovery from the 1995 earthquake.
A ceremony was held on October 4th, 2009, but for safety's sakes, the statue was disassembled within a month afterwards. It is presumed that Tetsujin's parts are safely in storage in Kobe.
The statue cost a total of 135 million yen (1.4 million dollars USD). The city contributed 45 million yen from its investments, while the rest of the money was raised though sales of Tetsujin Curry, which is presumably curry with food chunks shaped like Tetsujin's face.
See Also
Edit